Saturday Serving #3
I am preparing this tonight to take to family game night.
We are playing Apples to Apples,
Super fun game!! I highly reccomend it.
So I only changed one ingredient in the recipe, I used red onion becuse it is my favorite!
1 lb. ground beef
2-3 carrots, shredded
1 large potato, shredded (raw)
1 yellow onion, grated
1 egg
1/2 c. bread crumbs
red pepper flakes, to taste
salt and pepper to taste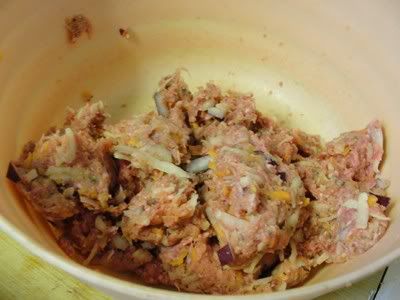 Sauce:
1 can cream of chicken
1 can cream of mushroom
1/2 c. sour cream
1 can milk
1 tsp paprika
1 tsp garlic powder
salt & pepper to taste
Preaheat oven to 375 degrees. Mix meatball ingredients together. Roll into fairly large meatballs and place in a lightly greased 9 x 13 baking dish or large casserole (you will have to put them pretty close together and that's ok). Bake for 25-30 minutes (you can also brown them in a skillet instead of baking them but I am all about putting in the least amount of effort). Mix sauce ingredients together in a medium sized mixing bowl and mix with a whisk until creamy. After meatballs are browned, pour sauce evenly over the meatballs and place back in the oven for another 15-20 minutes (or until sides are hot and bubbly). Serve over rice.
Well with so much going on I forgot to post this!! Well here is our final product,