So a few posts ago I put up the Crayon Monogram that is just beautiful to me and it is a super duper cheap Teacher present because crayons are only 25 cents!! Yes I can't quit buying them so if anyone has a request for one I will make them. I have plenty of crayons. LOL
Well I decided my Dad needed one. And he is not quite the Crayon type...
So I made one with nuts and bolts and such!!! Check it OUT!

I thought it turned out rather well. Plus it was all free from the "bucket-o-junk"!!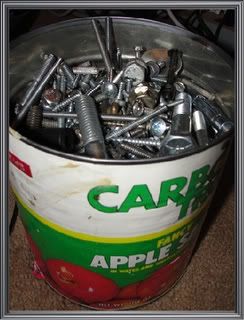 LUVS & Hugs~
P.S. My son lost both his front teeth this month! Both have come out @ Granny & Papaw's house. This last one... Papaw KICKED it out!! Accident of course, but a story none the less. Papaw is super ticklish on his feet. Like don't look at them or he will squirm. Well Jaiden was under the kitchen table and touching his feet and Papaw lifted his foot and BOOM! Out came the tooth!! Tooth Fairy brought $2. She's richer when she visits Granny's!!